Welcome to kclisoc.com for everything you need to know about Middle Eastern & Arabic cuisine.
Do you know the difference between hummus and baba ghanoush? Don't worry if you don't. This site about Middle Eastern Cuisine will help take the mystery out of some of the most popular and tasty dishes you will find on the menu during your next trip to Dubai or to your local Middle Eastern restaurant for an authentic meal.
There is a wide range of reasons why you should choose a Middle Eastern dish as the star of your next meal. With rich aromatics and delectable flavors, you will easily fall in love with the variety of dishes that are available to you in this cuisine. If you are watching your weight, don't worry. Most of the dishes are baked, stewed or grilled, and olive oil is the healthy fat that replaces butter, grease, and lard in more traditional American dishes.
Your introduction to Middle Eastern foods should include some of the 'must have' dishes. By the time you're done looking over this site, you'll be craving a falafel or some baklava.
Hummus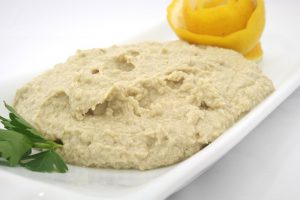 This is a creamy dip that is made from spices, herbs, and chickpeas. Hummus is a well known Middle Eastern food, and you can enjoy it with some baked pita. This is a complete meal full of flavor. You can also check out hummus' close relative, moutabal. This dip is made from tahini and charbroiled aubergine. Moutabal is an excellent complement to flatbread and grilled meat.
Shawarma and Kebab
Many who are new to Middle Eastern cuisine are often confused about the differences between shawarma and kebab. Kebab is made from diced meat that is grilled and place on skewers. It is served from a plate or placed in a pita.
Shawarma, on the other hand, is meat that has been shaved and grilled. It is roasted on a vertical spit and added into a wrap before serving. If you are looking for authentic kebabs or shawarma, choose one made with lamb instead of chicken or beef. Once you taste the meat served with cooling cucumber and yogurt dip, it will be difficult to resist from eating the entire thing at one time.
Falafel
Falafels are some of the most popular in the Middle East, and these deep fried balls are vegetarian and vegan-friendly. These fritters are made from mashed chickpeas and various herbs. They can be eaten alone, or they can be added into pita bread with veggies and drizzled with sesame dressing or some delicious yogurt.
Consider sharing a mezze platter with your family or friends that include:
Falafel
Hummus
Fattoush
Tabbouleh
Baklavah
Love desserts? If so, you will add this tasty dish to your list of 'gotta have' desserts. This is a buttery and sweet dish made with filo pastry. The addition of nuts is mixed with honey or syrup. Drink with apple tea or mint tea for a beautiful finale.
This is a small sampling of the many dishes in Middle Eastern cuisine. End your meal with traditional Qahwa tea to make the meal even more memorable.